Being Healthy From The Inside Out
In my opinion "being healthy" is a 3 part process... eating healthy, taking your vitamins and being active. While I know I'm struggling with the latter, I definitely try my hardest to eat healthy and take all my vitamins and supplements to make up for the fact I'm not working out as much as I should. In my defense when I was living in OC, the gym was legit a 30-second walk from my front door and I had my best friend to help whip my booty into shape.
I'm legit THAT person that has a calendar alarm go off every morning at 9:15 am to remind me to take my vitamins. I use a variety of different brands to make sure I'm getting all my vitamins, nutrients and supplements that target the areas I'm focusing on which consists of Vital Protein, Care/Of, Olly, HUM Nutrition and Buddha Brain. I probably use some that overlap and target the same things but better safe than sorry...? Haha. So let's go through my massive list.
Vital Proteins: Collagen Peptides
I'm ALL about collagen on anything and everything. So many of my skincare products have collagen (because I have scaring from acne) but beauty starts from the inside out. So not only do I use a lot collagen skincare, I make sure I'm ingesting it as well. The Vital proteins Collagen Peptides are the easiest way that I have found to make sure I'm getting a good amount of collagen everyday. This product is flavorless so I add them to smoothies, my morning coffee and of course my acai bowls. The Collagen Peptides promote youthful skin, healthier hair and stronger nail. It also helps keep your bones strong and healthy and promotes join healthy.
Care/Of: B12, Ashgawanda and Astaxanthin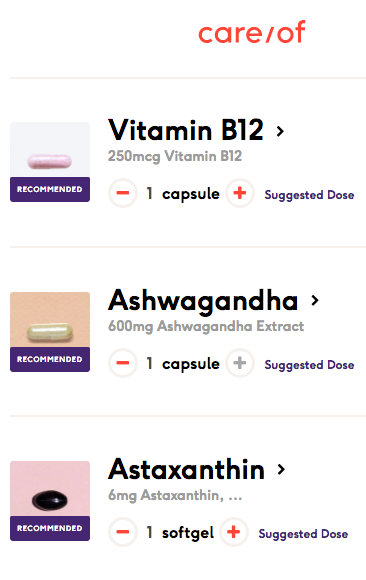 I actually did a VERY comprehensive blog post on Care/Of, their offerings and the vitamins and supplements I take from them and why. You can read that here, but here's the sparks note version... I take B12 because I'm a pescatarian (I started in June, I've had a couple hiccups but I'm doing pretty good) and B12 is a vitamin that is normally found in red meats. No red meats means no B12 for Jen. Ashgawanda helps mellow you out when you're stressed and I'm always fucking stressed. Astaxanthin helps promote and boost collagen production and is great for your skin.
Olly: Restful Sleep and Vibrant Skin
Adding to my ever growing list of ailments, I also have insomnia. My brain does not shut off. Mix that with my ADD and at night I lie awake making lists in my head about anything and everything. The Restful Sleep vitamins help clear my brain and get me ready for a restful night of sleep. The Vibrant Skin gummies... well that's pretty self explanatory... I'm skin obsessed and great skincare also starts from the inside out. What you put in your body matters just as much as what you put on it.
HUM Nutrition: Runway Ready and Daily Cleanse
I use The Runway Ready vitamin packet and the Daily Cleanse. A a beauty blogger, I'm consistency changing and dying my hair, getting gel manicures and testing out a lot of different skincare and makeup products. I want to make sure I'm taking vitamins to keep all that in tip top shape and me on top of my game. The Runway Ready vitamin packets consist of 2 supplements that are a mixture of black currant and sunflower seed and 1 Biotin. The black currant and sunflower seed supplement keeps my hair looking like it is in a shampoo commercial and my skin radiant and glowing, while the Biotin keeps my nails strong and healthy. The Daily Cleanse is a cleansing and detoxing anti-inflammatory supplement. It is made from organic algae, matcha, magnesium, copper, zinc and selenium. This mixture helps helps cleanse my skin, liver, kidney, bowels and lungs. It literally gets all the toxins out of my body.
Buddha Brain: Mood and Stress Formula
Last but not least we have the Mood and Stress supplements from Buddha Brain. For those readers who have been with me from the start ya'll know I suffer from anxiety and am constantly stressed out. You can read about my journey with anxiety here. Like many others with anxiety, I was taking Xanax which we all know is reactive. I like that the Mood and Stress supplements are proactive. Instead of taking the recommended dosage when I feel an anxiety or panic attack coming on, I take two of these before I leave my apartment and it keeps me as mellow as can be. This supplement is a blend of 5HTP (which boosts your serotonin... I went to college in San Francisco when EDM was on the rise, me and 5HTP go way back, haha), Magnesium, Vitamin B's 1,2,3,5 and 6 Ashgawanda and Lemon Balm. These natural ingredients work together to keep your mood and stress levels balanced.
**all product images minus Care/Of were sourced from Amazon and all the products listed above with the exception of Care/Of can be ordered through Amazon.