Los Angeles, CA: The Line Hotel
I'm a huge believer of the "treat yo' self" mentality. For me, "ME" time is so damn important. I've been going through a ton of changes in my life right now that I needed a day to unplug, relax and treat myself. I booked a one night stay at The Line Hotel in Los Angeles' Koreatown. I always book my hotel stays through hotels.com and they have such an awesome rewards program where if you stay 10 nights, you get a free night at a hotel of your choosing. The cost of the one free night is determined by the average of the 10 nights you booked previously through hotels.com.
Walking into the lobby I was greeted with friendly smiles and an upbeat attitude. The guy who checked me in was so nice and friendly (I'm kicking myself for forgetting his name, but I do remember that he just moved to LA from Seattle) which is such a breath of fresh air in LA. He was great and he even gave me a late check out without me asking. I was almost taken back when he asked if I wanted a 1pm check-out because normally you have to fight the front desk agents for a late check out. With a smile on his face, simply offered.
I booked myself the Hollywood Hills King View and The Line Hotel did not disappoint. The view was insane. One of the walls in my room was all window, so from any which way I looked, I got that beautiful LA view and a plethora of natural sunlight. The room decor was on point. I love the industrial vibe you get with the concrete walls but they paired it with almost a desert bohemian vibe with the chairs and puffs in the room and somehow it works. And do not even get me started on that bed. It was heaven. I wish there was a way to discretely sneak mattresses out of a hotel, haha. If there was this one would have definitely come home with me.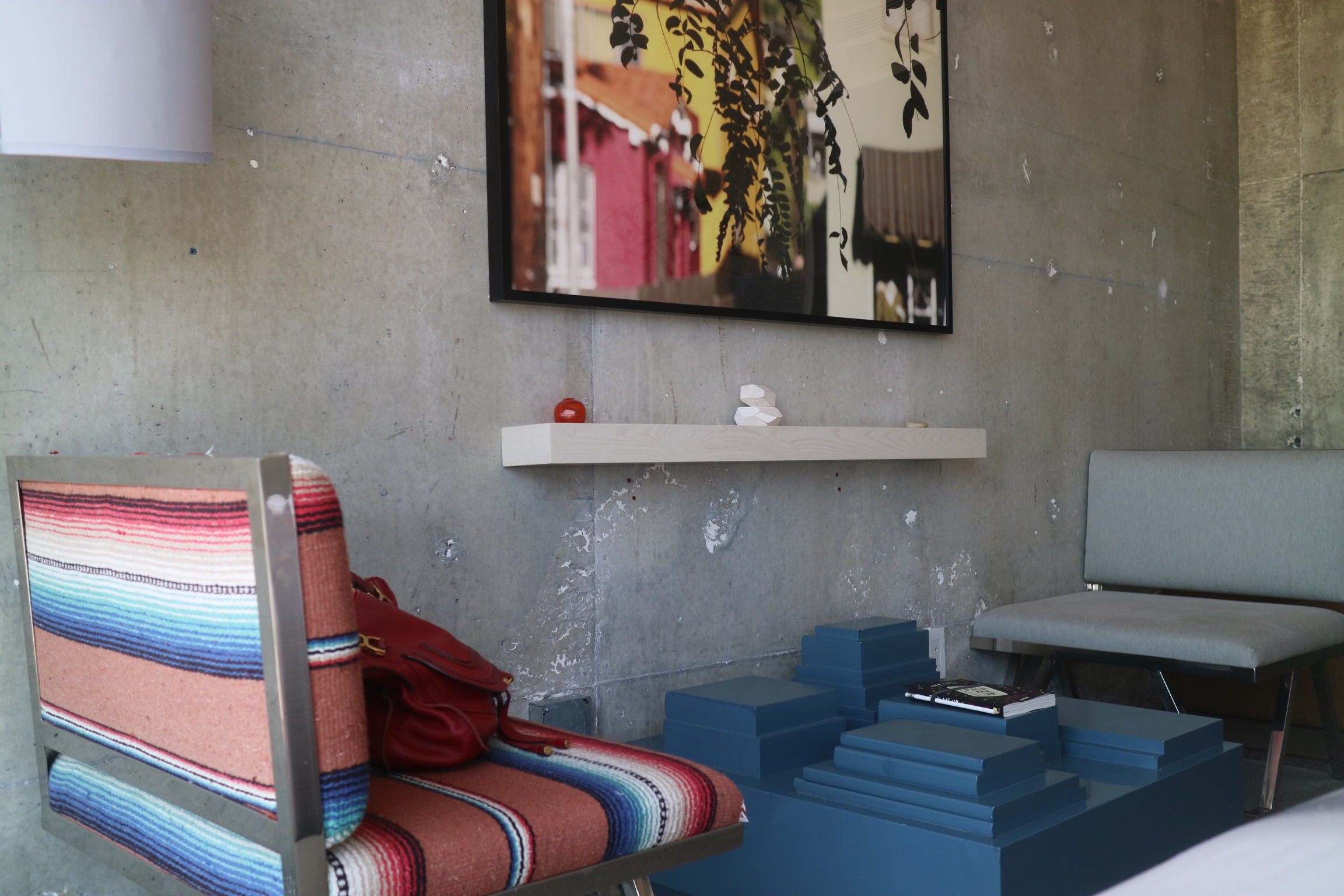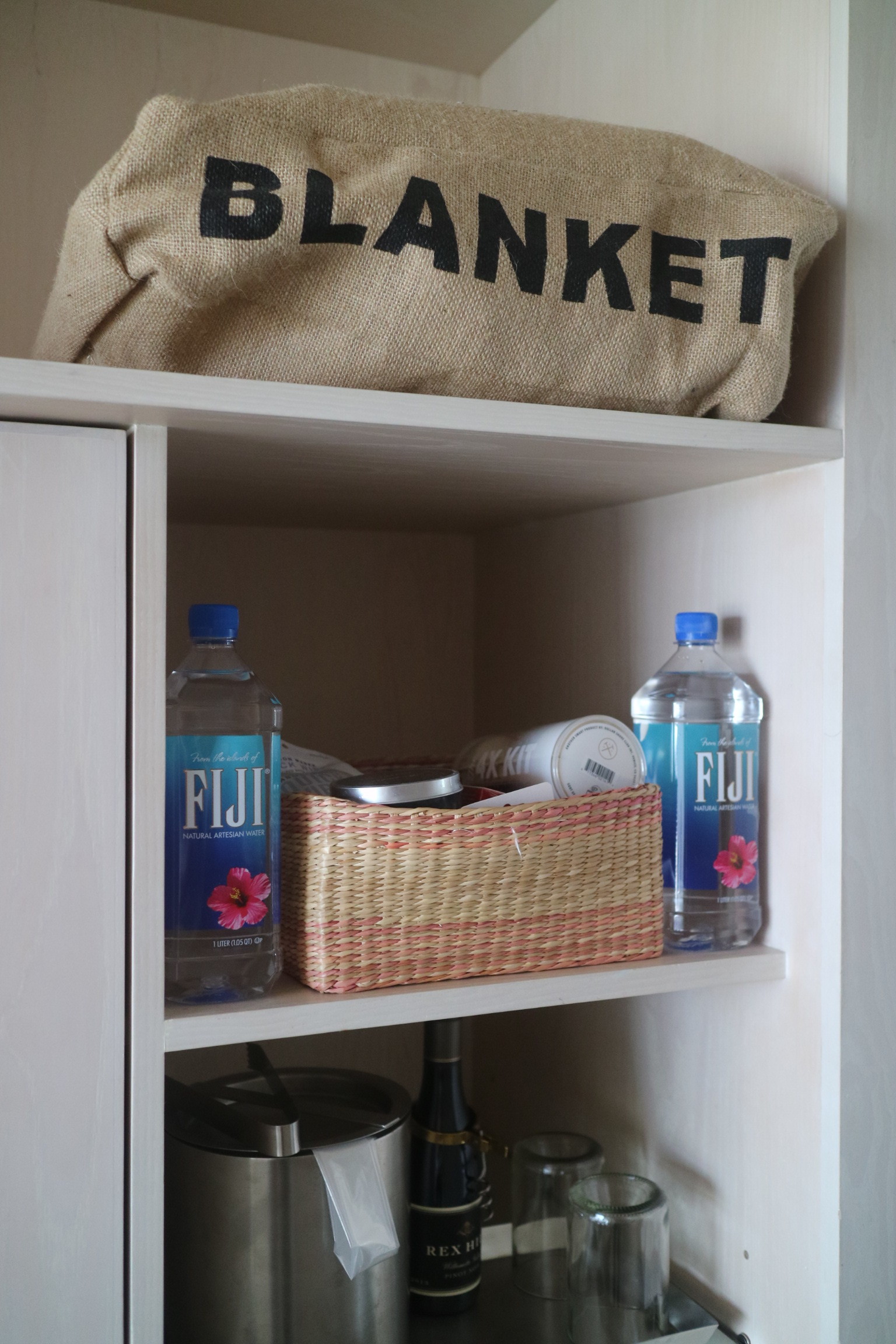 The hotel itself is awesome. The urban, concrete jungle vibes are on point. There are several dining choices, and outdoor pool, a hotel bar/lounge and Break Room 86 is part of the hotel as well. I spent the first six hours in my room lounging around in my hotel robe working through my writer's block. I was able to bust out three blog posts and a makeup tutorial in addition to this post. I finally started to get hungry so I wandered around the hotel and found myself at Commissary. The whole point of my "treat yo' self" staycation was to not have to interact with people. As weird as that sounds, I just wanted "ME" time. So the last thing I wanted to do was eat in a restaurant or at the bar which was the only two options the hostess offered me. I asked if she knew if the hotel offered room service and she had zero clue. I would say this was my only "negative" experience with The Line Hotel. When I got back to the room, I flipped through the informational binder and found they do have room service (or delivery as it's referred too). I order a charcuterie plate and spam musubis to hold me over.
My room service order took about 30 minutes to arrive, which is pretty good time wise. When the room service attendant handed me my order, I was "okay... this is interesting" and also thought "this is so Korean..." haha. The way the room service is packaged up was very similar to "do si rak" which is Korean packed meal. I love all the small Korean accents and details within The Line Hotel.
Overall, this was the perfect "treat yo' self" staycation. It was amazing to have a day and night all to myself to regroup, decompress and get some rest. Thank you to The Line Hotel for providing me with an awesome oasis to work through my writer's block.